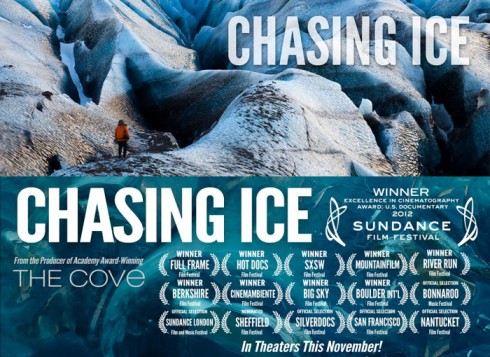 Chasing Ice is a newly released documentary that looks at the impact climate is having on our world. A screening of this amazing film has been organised at the Intech Science Centre near Winchester on Saturday 9th March, jointly sponsored by Solar PV Partners, Basingstoke Energy Services Co-operative, and Winchester Action on Climate Change.
Over the last few weeks, the global media have been reporting on a remarkable multi-award winning film, called Chasing Ice. The film uses time-lapse cameras to capture a multi-year record of the world's changing glaciers, producing beautiful videos that capture ancient mountains of ice in motion. The media have billed it an amazing adventure and life changing journey to discover the truth. It is undeniable evidence of our changing planet.
The Times (4 stars) …. "This Oscar-shortlisted picture is starkly beautiful, alarming and important."
Time Out (4 stars) …. "The term 'game changer' barely does the film justice, and the big screen is just the place to see it in all its ominous splendour."
Total Film (4 stars) …. "Visually spectacular montages of ice floes receding that will make you gasp and move you to tears."
To book your place, please go to the Intech Science Centre website or call 01962 863791. This is one of only forty screenings currently booked for the UK, so book up now. There are two showings: at 5:40 and at 7:45. Seats are available on a first come, first served basis and Intech are making a small charge to support their fantastic ongoing educational programmes.
If you're travelling from Basingstoke and would like to liftshare or find out about other low-carbon options to get to the venue, please contact us.
You can find more information and a short film trailer at Solar PV Partners website or at www.bes.coop.
We hope to see you there !